Apple shares open at new 52 week high
27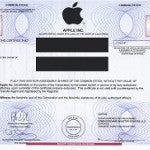 Update: Piper Jaffray analyst Gene Munster now leads Wall Street with a target price of $670 for Apple's stock. Munster calls Apple his top play for 2012 and expects a monster (not Munster) launch for the Apple iPhone 5 later this year.
We remember a time in the early 1980's when
John Sculley was running Apple
and the stock was trading at about $12. Fast forward to today and Apple's NASDAQ traded common stock has opened at a new 52 week high of $457. The nearly 8% gain on Wednesday morning can be attributed to that monster Q1 earnings report that Apple
announced after Tuesday's closing bell
. Setting a quarterly record for both Apple iPhone and Apple iPad sales at 37.4 million and 15.43 million respectively, the company's results blew past even the most optimistic analyst's guess of
36 million iPhones
sold in the fiscal year's first quarter. At the same time, Apple also bested the
analysts' average guess
that the company would sell 13.5 million iPad tablets in the same three month period.
Without getting too technical, part of the rise in Apple's stock on Wednesday is from "short-covering". Traders who believe a stock is too high and is ripe for a fall can borrow a company's stock and sell it in the hopes of buying it back later at a cheaper price. Think
buy low,sell high in reverse
. These bearish short-sellers need to eventually buy back the stock before they lose everything and when you see a big rise like today's action, the shorts try to end their financial suffering by buying back the stock to meet their commitment.
Since the original Apple iPhone launched, Apple's stock has run 368% from $122.04 to the current price. Since the launch of the Apple iPad, the stock has gone up from $346.67 to the current price for a gain of 30%. Today's rise not only takes Apple's stock to a new 52-week high, it is also an
all-time high
as well.
source:
Yahoo!