Apple shares hit all-time high at $120 before dropping back
99+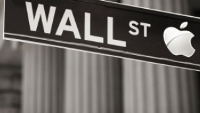 Apple's shares, still enjoying the momentum achieved from an amazing fiscal first quarter earnings report, scored a new all-time high today, peaking at $120.
Taking into account a 7 for 1 stock split that took place last summer
, the shares hit the equivalent of a $840 pre-split stock price. To put the $120 price in perspective, on June 29th 2007, the day the
Apple iPhone
launched, the stock was trading at a post split price of $16.66. The shares closed at a post-split price of $32.22 the day before the
Apple iPad
was launched.
Since the death of Apple co-founder Steve Jobs on October 5, 2011
, Apple has seen its stock price soar from a post-split price of $51.17 to its current value.
The company
earned an incredible $18.1 billion for its fiscal first quarter, on revenue of $74.6 billion
. 69% of the latter figure was attributable to iPhone sales. Not only did Apple increase shipments of its iconic smartphone from 51 million to 74.5 million year-over-year, it also managed to raise the average price of the product by $50 per unit.
As analyst Colin Gillis of BGC Financial points out, "
They have been able to increase volume and raise prices. It's a thing of beauty
." But even Gillis warns that nothing goes up forever. "
They have a profit empire, but does any empire ever last?
"
With the shares now down under $118 as we head to the closing bell on Friday, Apple is valued at $682.49 billion. Perhaps the most amazing statistic is that the tech titan is now worth 84% more than Exxon Mobil, and more than twice as much as Microsoft.
Thanks for the tip!
source:
SiliconBeat