Apple sends out official invites to September 10th event
52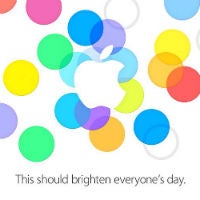 It's not like this was a surprise, but it's always nice to have the official invitation. We have known for a while that Apple would be holding an event on September 10th, and that said event will more than likely be to announce the new iPhone 5S and the iPhone 5C. Well, Apple has started sending out the official announcements for that event.
The invites obviously don't specifically say what will be in the announcement for the event, and simply carries the tag line "This should brighten everyone's day." The assumption here is that is a reference to the brighter color scheme found in iOS 7, and possibly also a nod to the
various color choices
that will be available for both the iPhone 5S and the iPhone 5C.
The iPhone 5S has been rumored to feature the
A7 processor
, which could make the device about 31% faster than the iPhone 5. It has also been rumored to have a
fingerprint scanner
, and a 12 or 13MP camera with dual-LED flash. The iPhone 5C is expected to
replace the iPhone 5
in the new lineup and likely won't offer much different from the iPhone 5 aside from a
choice of colors
.
The event will be held in San Francisco on the 10th at 10AM PT (1PM EST), and obviously we will bring you all of the news of the day as it happens. We're just one week away from finally having the end of iPhone rumors, and the start of more iPad rumors.