Apple sends audit teams to review working conditions at Pegatron after latest report
21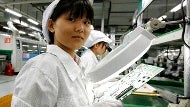 Foxconn's CEO Terry Gou
must feel like he's dodged a bullet, after labor conditions scrutiny all of a sudden shifted to Apple's other major assembler, Pegatron, which is
in charge of putting together products like the iPad mini and the budget iPhone
that's coming later in the year, but Macs as well.
The non-profit China Labor Watch organization has tagged Pegatron for inhumane working conditions in factories it operates. The watchdog group found out negligence on part of management for how workers are compensated, resulting in the vicious spiral of more and more extra hours clocked in.
The observers noted employees logging a 66 to 69 hours workweek in the largest Pegatron facilities, whereas Apple has set strict guidelines of no more than 60 hours for its assemblers, plus the overtime has to be voluntary on the worker's part.
The team from Cupertino reacted immediately to the report, and sent audit teams to review the working conditions in those Pegatron factories with the statement that Apple "
is committed to providing safe and fair working conditions throughout our supply chain.... [This] report contains claims that are new to us and we will investigate them immediately ... If our audits find that workers have been underpaid or denied compensation for any time they've worked, we will require that Pegatron reimburse them in full
," said Apple's spokesperson in Bejing.