This Apple repair center sends 20 false emergency calls to 911 per day
10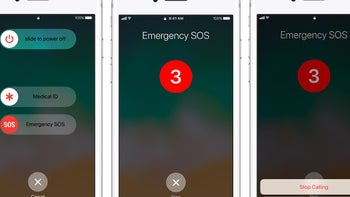 Emergency 911 dispatchers in Elk Grove and Sacramento County in California have an odd case on their hands. Ever since October rolled in, they've been seeing on average of 20 false 911 calls every day, for a grand total of 1600 so far. As per one police dispatcher, Jamie Hudson:
We've been seeing these calls for the last four months from Apple. We're able to see quickly where the call is coming from, so when we get one from Apple, the address will come up with their location.

The times when it's greatly impacting us is when we have other emergencies happening and we may have a dispatcher on another 911 call that may have to put that call on hold to triage the incoming call.
It turned out that the accidental emergency calls all originated from one and a same place... an Apple repair factory nearby that fixes and refurbishes iPhones, Watches and iPads. The October influx of fake alerts started together with the iOS 11 update, and the
iPhone 8
, Plus and
X
launch, which came with iOS 11 preinstalled.
While the SOS emergency call feature that got introduced with the update allows you to hold the power button and
alert 911 in case of danger
easily, its Auto regime means that it also can be triggered accidentally, and that's what has been happening in the repair shop for one reason or another. Apple has acknowledged the issue, and even outed a statement that it will look into the matter, apologizing for the 911 confusion:
We're aware of 911 calls originating from our Elk Grove repair and refurbishment facility. We take this seriously and we are working closely with local law enforcement to investigate the cause and ensure this doesn't continue.