Apple recaptures top spot in the U.S. in September, dropping Samsung to number two
78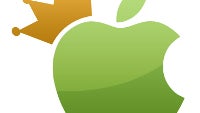 Analytic firm Counterpoint Research has released a report that shows strong sales in the U.S. for the Apple iPhone. Led by the launch of the
Apple iPhone 5s
and the
Apple iPhone 5c
, the iPhone had 39% of the U.S. smartphone market last month, up from 14% in August. That was enough for Apple to leapfrog its top rival as Korean based Samsung saw its U.S. share tumble from 37% to 29%. With Apple on top and Samsung right behind, the remaining names in the top six in order of ranking include LG, Motorola, HTC and Nokia.
The accompanying chart shows some interesting trends. Besides Apple, only Motorola saw an increase in U.S. market share last month among the six manufacturers listed. That could be due to the
Motorola Moto X
, available on all four major carriers. There is a slim chance that it could be due to the new DROID models that launched at Verizon last month, which included the
Motorola DROID MAXX
and its 48 hour battery life. The price of that model has just been cut to $199.99 on contract.
Also interesting is that
for all of the momentum that Windows Phone seemingly has in the U.S.
with the entry level Nokia Lumia 521 leading the way, Nokia cannot seem to make up any ground on its competitors. Perhaps the expected launch next month of the unannounced (until tomorrow, anyway)
Nokia Lumia 929
will change that. The 5 inch device takes advantage of the GDR3 update to offer a large screened phone (as opposed to a phablet) with 1080 x 1920 FHD resolution that will be powered by a quad-core Qualcomm Snapdragon 800 processor. Toss in a 20.7MP PureView camera and we'd say that this is going to be a make or break device for Microsoft and Nokia.
Turning to Apple, Societe Generale's Andy Perkins, who follows the Cupertino based tech giant for the investment firm, expects 34 million iPhones to have been sold in the quarter ended last month. Perkins noted that the two major iPhone assemblers in China, Hon Hai and Pegatron, had year-over-year increases in sales of 20% while the value of handsets exported from China grew 30% in the same period. Perkins put together a chart showing the strong correlation between the value of those exports and Apple's sales. His take on things? Things are looking good for Apple.
source:
Forbes