Windows Phone sales are "small, but growing fast"
39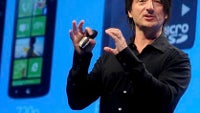 Windows Phone might still have a single-digit market share in the United States, but Microsoft's VP Joe Belfiore is not too worried.
"We're small, but growing fast,"
Belfiore said in an interview.
"We'll take it."
Windows Phone is still struggling to get traction in Western markets, but devices running on Microsoft's mobile platform are now outselling the iPhone in places like India and Latin America. No wonder - after all we're talking about a totally different market presence as affordable devices like the Lumia 520 are selling the most there, while the iPhone remains a nearly-luxury item. In those locations
"the market dynamics play better to what we are good at,"
Belfiore added.
The statements of the executive come right after Microsoft officially unveiled
Windows Phone Update 3
, a version that enables support for larger displays in so called phablets, sharper 1080p resolution and quad-core chips. Update 3 is clearly focused towards higher-end devices, while earlier Windows Phone updates centered around bringing prices down and allowing for less powerful phones to run the platform.
However when faced with a common critique that Windows Phone is getting updated too slowly, running on a very long update cycle, Belfiore is quick to disagree.
"The work we are doing is valuable, and a lot of people aren't aware of it,"
he said.
Still, the Microsoft VP admits that the biggest hurdle for Windows Phone is the lack of some hugely important applications (Instagram, we're looking at you). It seems that right now these are the stumbling blocks Microsoft should be focused on removing the most.
source:
AllThingsD