Apple pours $1B in Didi Chuxing, the largest car-share firm in China
9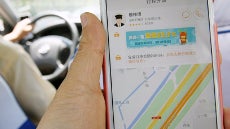 As traditional car brands like BMW are ready to release self-driving, fully electric vehicles, and have ventured into the car sharing economy, all with the purpose of fighting off disruptive technology like the Tesla cars, the Sillicon Valley giants are increasingly taking notice where the next tech frontier lies, too.
In sync with this trend, Apple has for the first time officially acknowledged to be a company invested in cars and transportation sharing. China's biggest Uber competitor just announced that it has received a financial backing of one billion dollars from none other than Tim Cook & co, from the small town of Cupertino.
The ride-share shop, dubbed Didi Chuxing, was initially two separate projects of the two biggest Chinese web conglomerates - Alibaba and Tencent - forming a joint-venture afterwards, and becoming a transportation behemoth, with presence in more than 400 Chinese cities, with no less than 14 million registered drivers. That's many times bigger than Uber in China, and the company is not suffering from lack of investments, even without Apple's contribution, as it is valued at about $26 billion.
Apple's chipping in not from the good of its heart, of course - it will help Didi build and expand the ride-sharing platform, and learn about the nuts and bolts of the Chinese market in the process, tipped Tim Cook. This is something that the struggling Uber can't offer, and hints at a possible larger interest in cars and transportation by Apple in general. Tim Cook downplayed any references to Apple's car project that might stem from this investment, preferring to talk about
CarPlay
instead: "
That is what we do today in the car business, so we will have to see what the future holds
," Mum's the word.