Apple patent hints at native public transit navigation coming to iOS
22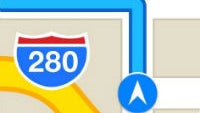 Having public transit navigation and information added to Apple Maps in iOS has been rumored for a long time. The feature was intentionally left out of iOS 6, but Apple allowed
3rd party apps
to hook in and provide that data. It was
iOS 8
that was really
supposed to get the feature
, but it wasn't quite ready for the September release; and, since Apple can't update most of its individual apps outside of a system-wide update, that means iOS users have to wait until next fall.
And, it looks like iOS 9 will finally be the update to bring public transit to Apple Maps; at least, that's how it appears based on a newly filed patent. The patent by Apple is called "User Interface Tools for Commute Assistant", and it details an "assistant" that would help guide you on public transit either within a city or even between regions. The assistant would provide estimated arrival times, station and stop information, automatic updates, and more.
We're unclear why the USPTO has found this filing worthy of a patent given the long list of prior art in this case, not the least of which is Google Maps; but, at this point, we've given up trying to make sense of the mess that is the US Patent and Trademark Office, and the massive failures it has had trying to deal with software patents.