Apple patent application could some day help improve the battery life on the Apple iPhone
15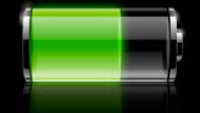 A patent application filed by Apple could some day lead to longer battery life on the Apple iPhone. The patent, entitled "
Inferring user intent from battery usage level and charging trends
" explains how the handset can use the battery charging habits of the phone's owner to determine what the phone will be used for at any given time. The battery is then optimized to handle what tasks the owner is expected to use it for next.
To optimize the battery, the screen could darken or brighten and the CPU clock speed could change. While current battery conserving programs wait until the battery is almost dead to implement certain changes to make the remaining battery life stretch out as long as possible, the patent would allow for longer term battery power budgeting so that the battery could last throughout a specific time period.
"Techniques for power management of a portable device are described herein. According to one embodiment, a user agent of an operating system executed within a portable device is configured to monitor daily battery usage of a battery of the portable device, to capturing, by the user agent, daily battery charging pattern of the battery of the portable device, and to inferring, by the user agent, user intent of utilizing the portable device at a given point in time based on a battery operating condition at the point in time in view of the daily battery usage and the daily battery charging pattern. Power management logic is configured to perform power management actions based on the user intent."
-Apple patent application
In one example listed in the patent, an iPhone user puts his phone in Airplane mode on a jetliner. The phone communicates using an API with a program (like eWallet or the calendar, to determine the length of the flight. The phone would then automatically adjust the performance of a couple of programs to ensure that the battery could last the entire flight without charging. Pretty cool, huh?
Another example would be the use of eWallet to purchase a drink at a coffee house. Knowing that you will be getting your caffeine fix for the next 20 to 30 minutes, and that you probably will be playing games during that period of time, the system could spring into action making sure "
it is in the user's best interest to sacrifice some battery life in favor of improved performance
."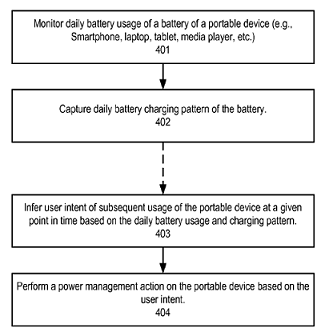 Apple's patent application would allow for long-term budgeting of the battery on the Apple iPhone
source:
USPTO
via
AppleInsider
,
Engadget