Tablets in the classroom – a potential tool for better education
12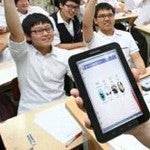 Electronics in the classroom has come far in the last few years. Originally, students would carry heavy, bulky laptops into the classroom and would be hampered by the size of the unit. Once netbooks were introduced, they allowed students to have similar functionality but with a smaller and lighter product. Now that tablets are on their way to becoming household products, we are seeing more of them being used to take notes and for studying. And similarly to other computing gadgets like laptops, tablets have also become a tool on the other side of the desk as a way for teachers to use multimedia content as a learning aide.
Exploring the tablet as a tool for students, we have a much lighter device than a laptop, with a screen large enough to allow for plenty of note taking. While most tablets require you to type on a virtual QWERTY keyboard, which is way more uncomfortable compared to typing on a laptop, the
HTC Flyer
for example, uses the manufacturer's
Scribe technology
to allow users to use a pen-like stylus to write notes all over the screen. This model also has an internal audio recorder that can match up notes or diagrams you have written on the screen with audio recordings of a teacher's lecture. This is a pretty good example of how all the writing and note-taking in class can be easily and safely transferred to the screen of your tablet, without causing inconvenience.
But where the tablet shines is in the hands of a tech savy teacher who can produce captivating alternatives to the usual dry text books. A web site promises 62 interesting ways to use the Apple iPad in a classroom and each of the 62 is a winner. Apps that you can download from the App Store (and are usually also found in the Android Market for Android flavored tablets) can turn a teacher's tablet into a piano to help teach music. A tablet can also be used to help student's learn to read. We recently reported that Disney has published its first app for the Android Market, a book featuring Winnie The Pooh which offered different modes including one that allowed kids to hear the book read to them while viewing the pages on a tablet.
screens ranging in size from 7 to 10 inches
, they provide a visual way of learning. Many apps will teach drawing skills, or how to write letters for the young ones. Students can even learn foreign languages easier than in the past, by taking advantage of the visual nature of the device. Most subjects are easier to learn when you can "see" what you are being taught. And many features already on a tablet can provide outstanding learning opportunities. Teaching a class about the 9/11 terror attack on the U.S. is as simple as clicking up a YouTube video. Current events can be discussed while a tablet shows the CNN app or The New York Times web site.
For those who still feel that textbooks are the way to go, today's tablets can become a textbook very easily. In fact, there are places around the world, where the tablet is being considered to be adopted as the one tool that would replace everything for students. It has recently been announced that by 2015,
South Korean students will replace textbooks with tablets
. The South Korea Ministry of Education, Science and Technology said it will reach up to the Cloud by investing the equivalent of $2 billion USD to convert textbooks to digital. Tablets will be handed out for free to low-income students. While South Korea is the first country to adopt such a plan, this is a blueprint that could be followed in many other countries.