Apple lawsuit against Googerola thrown out with prejudice
72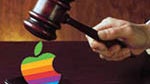 Apple's U.S. lawsuit against Google/Motorola in the state of Wisconsin has gone down in flames, as U.S. District Court Judge Barbara Crabb dismissed the entire case with prejudice before the trial could formally get underway. As in another case
dismissed with prejudice
earlier this year, and Apple's
lost rights to the iPhone name
in Mexico last week, the details of what happened make it hard to avoid feeling that Apple's own hubris (or at least that of their lawyers) may have cost them dearly.
The trial in question involved FRAND patents; specifically Apple was claiming that Motorola was abusing them and that Motorola should be forced to offer Apple a license to those standards essential patents (and possibly pay Apple punitive damages). The trouble started last week, when Apple submitted a motion indicating that while they wanted the court to force Motorola to make a court-determined licensing offer, Apple was not willing to agree to take that offer if the court found that the fair price was
more than $1 per phone
.
In other words, Apple wanted the court to force Motorola to offer a "fair deal", but to leave Apple with the right to reject the deal if Apple didn't think it was fair. Judge Crabb, who had previously seemed quite intent on getting this situation solved, was suddenly left with the possibility that the entire trial could finish with Apple simple walking away from the verdict if they didn't like it. As a result she accused Apple of using the trial as a
global bargaining chip
rather than a way to solve the problem – a claim that is hard to refute given the lopsided treatment that Apple was demanding. She asked for clarification from both sides, and with Apple still being wishy-washy on whether it would be bound to any court-determined agreement, she dismissed the case with prejudice this morning.
The result is that Apple not only failed to get the ruling it wanted, it cannot file the same case against Google in any other court (although it can appeal the ruling to a higher court, which it undoubtedly will). In contrast, Microsoft is also suing Motorola on FRAND abuse charges but has agreed to be bound to whatever licensing agreement the court deems to be fair. And as a result that trial is going ahead as scheduled. Given these two different attitudes it's hard not to come away feeling like Microsoft really wants to have the issue settled, while Apple simply wants to only expose itself to "heads I win, tails you lose" types of situations.
Even in the Apple v. Samsung case the judge frequently
admonished Apple's lawyers
for their overbearing requests, and of course they were
censured recently
by a UK judge for their
pseudo-apology
they posted that directly contravened a judicial order. We aren't lawyers, but it seems like the cumulative impact of these rulings is reinforcing an undesirable stereotype about Apple that could eventually hurt its brand. And at the least it seems to have cost them at least two trials in the U.S. alone.
Tell us what you think about Apple's legal strategy in the comments below.
sources:
Reuters
,
Groklaw