U.S. Apple v Motorola lawsuit dismissed in its entirety
81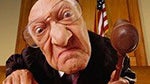 Apple and Motorola were scheduled to have back to back lawsuits starting next week; it was to be the first major set of cases decided in a U.S. court, and an epic courtroom battle was expected, one that might set an important precedent in the mobile patent wars. And in a way those expectations were met, but not in a manner that anyone expected a month ago.
Earlier this morning Judge Posner canceled the jury portion of the trial, leaving Apple and Motorola only the option of presenting their case in front of the judge in the hopes of getting declarative damages or (more importantly to both companies) injunctive relief as a matter of law. Now those hopes are largely dashed, as
Posner has ruled that neither side provided evidence of sufficient damages as to warrant injunctive relief
, and has thrown the case out entirely, with prejudice.
That means that not only will there be no injunctions from this case, but the patents brought by Apple and Motorola cannot be asserted against the other in federal court again. The judge labeled this a "tentative ruling", as he is reserving the right to change his mind as he writes up his formal opinion next week. We don't consider a reversal to be terribly likely, as Posner has been
exasperated
with both sides for some time, in particular
lecturing Apple
more than once about wasting the court's time, and indicating early on that neither was going to win a ruling that let them completely exclude competition from the smartphone business.
This is a far bigger loss for Apple than Motorola
, as Motorola's
countersuit
was merely an attempt to gain leverage to prevent Apple from shutting them out of the U.S. in the event that they won an injunction. Apple also had more patents left on the table, all of which will now be useless against Motorola in further U.S. lawsuits. Not surprisingly, Motorola has already released a short statement expressing their pleasure at this temporary ruling, while Apple has stayed mum on the subject so far.
If you want to read the short and rather terse two page legal order you can find it in the source link below.
source:
Posner's Ruling
via
The Verge