Apple is now the first $800 billion company, Buffett the smartest guy in the room... again
43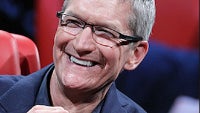 The highly-anticipated
iPhone 8
, edge-to-edge OLED screen and all, is apparently going to throw Apple fans in an upgrade "super cycle," or so think the analysts, whose predictions made investors take notice, and push Apple's stock past the $800 billion market cap mark yesterday after the
quarterly results
were announced. To put things into perspective, that's the first time in the history of the US stock market that a company has reached this exorbitant market capitalization.
While the shares were briefly down, as investors heard that Apple sold slightly less iPhones than the same quarter last year, the stock quickly rebounded when they figured out that the actual profit was higher, as Apple has a more expensive product mix now. All in all, in afternoon trading AAPL pushed past $153 a share, and was up more than 3 percent for the day, which, for the company the size of Apple, is a pretty impressive feat.
All that is left now is to see if the iPhone 8 will meet all the hefty expectations that are piled up on it by investors and fans alike, and make Apple the first trillion dollar company in history. On a side note, Warren Buffett looks like the smartest guy in the room again, after years of refusing to invest in the "fickle" consumer electronics industry. His
$1 billion investment
in Apple is up more than 50% in less than a year. No wonder the guy is known as the Oracle from Omaha. He returned the favor by praising the iPhone after Apple's quarterly results were out, saying that "
you can't move people by price in the smartphone market
" like in home appliances, and that the iPhone is "
a very, very, very valuable product to people that build their lives around it
."