Apple is making it easier for schools to offer iPads to students
70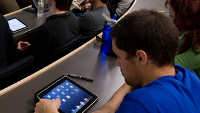 One of the biggest obstacles that makes it hard for Apple to hand out iPads to students is the requirement that Apple ID's are needed to download and install apps on the tablets. This slows down the process of setting up the tablets for each individual student. But Apple has sent out an email to one of its educational partners that says that it will allow schools to
"assign and distribute apps to a device without an Apple ID. As currently planned, this will greatly reduce the number of steps needed to setup a device
."
Schools will still be in charge of creating and managing Apple IDs on behalf of students so that they can access iCloud. This would eliminate the task of trying to obtain parental consent for students under the age of 13 to receive an Apple ID. At the same time, schools will be able to make sure that students aren't installing games on their tablet, or adding content that is not age-appropriate.
The bottom line here is to make things easier for schools to "
enroll, manage and support
" a large distribution of iPads to students. Reducing the number of steps required to not only set up the devices, but to actually distribute them, is bound to make this a less onerous program for schools and school districts which are already buried under pointless paperwork. And for the students, it gives them a learning tool that can not only help with their school work, but could also motivate and inspire them.
"To simplify large deployments, including one-to-one and shared use, we want to make app distribution even easier. Today, Apple IDs are required in order to deliver apps and books to students. We are working to change this in the fall by allowing schools to assign and distribute apps to a device without an Apple ID. As currently planned, this will greatly reduce the number of steps needed to setup a device. This change should eliminate the need to create generic Apple IDs solely for the purposes of getting content onto iPad. Schools will also have the option to prevent students from making personal purchases without approval."-Apple email
The new procedures are expected to take effect for the upcoming 2015-2016 school year.
source:
9to5Mac
via
Engadget