Apple iPhone 5C red plastic shell makes an appearance
15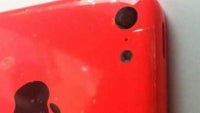 The
Apple iPhone 5C
, a device first referred to as the 'affordable iPhone', is now leaking out almost every day and all evidence seems to agree - it's coming up soon. The iPhone 5C is not officially confirmed by Apple, but its plastic housing has surfaced in China tens of times and now we get to see the red version of it.
The red plastic shell is just one of a few colorful options for the iPhone 5C. Apple is betting on color and we have seen yellow, green, blue and white versions of the device.
Latest rumors from China point out that while the plastic iPhone 5C will be cheaper than the original iPhone, it won't necessarily be cheap. At a slightly more affordable price of around 3000 yuan, the equivalent of around $490, the device fits better in the high-end range rather than the mid-range.
In terms of size and screen, the Apple iPhone 5C is expected to be a near copy of the current iPhone series as it is said to also feature a 4-inch display and be only slightly thicker. We don't yet know much about its internal components, but with more details coming up every day we should soon learn more.
source:
C Tech