Apple iPhone 4s fatally electrocutes a 28 year-old man in Thailand
78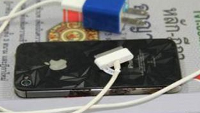 Apple is beginning to have a major PR problem on its hands as another person received a fatal shock from one of its iDevices. This time, a man in Thailand allegedy was electrocuted while charging his
Apple iPhone 4s
. According to a local Thai newspaper, the 28 year old was found deceased, lying prone on the floor, clutching a burnt Apple iPhone 4s in one hand. The phone was purportedly connected to a third party charger.
A whole series of deadly stories kicked off this past July when a flight attendant was supposedly killed from a shock that was emitted from her
Apple iPhone 5
while it was being charged. The phone rang and
23 year-old Ma Ai Lun died when she answered the call
. Since then, a number of gruesome incidents took place, including one involving
a shock that was released from an 8 year old's Apple iPad
. The girl's father was on the receiving end of that jolt which sent him hurdling across the room.
Considering that most of the incidents involved a third party charger, Apple took
great pains to educate iDevice owners about the differences between third party and original equipment
. Apple even offered a discounted Apple made charger for just $10, to those trading in a third party unit.
As it turns out, in the latest story, the deceased was apparently talking on the device while it was plugged in. Pictures of the equipment involved in the electrocution show that the charger was a blue colored model, not the official white charger that comes in the box with the phone. Once again, it looks like a third party charger is to blame, but this might not be enough to cool off a nervous public in the region, one that might decide not to tempt fate regardless of who manufactured the charger.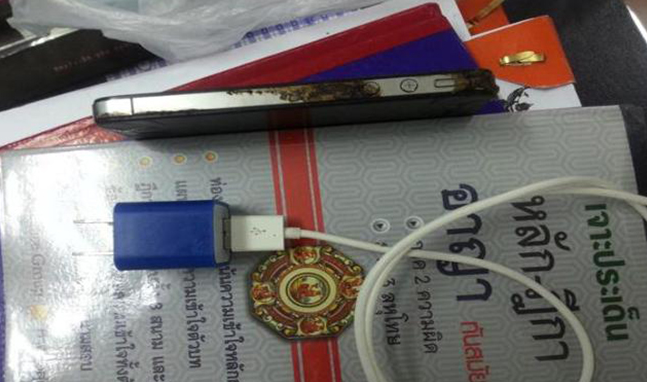 This Apple iPhone 4s and third party charger are allegedly to blame for the electrocution death of a Thai man
source:
DailyNews
(translated) via
MacRumors