Apple iPhone 4 case can stop a 50 caliber slug from putting a hole in your phone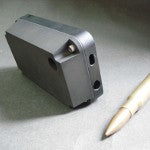 If you are worrying about someone shooting a hole through your Apple iPhone 4, we have some great news. For only $650 you can purchase a heavily armored case from Marudai
that can stop a direct hit from a 50 caliber bullet
. And just in case you think that paying that kind of money for a 1 inch thick plate of steel is a rip-off, the company will send you with your case, a 50 caliber dummy bullet.
If a sniper is aiming at the touchscreen of your pride and joy, your Apple iPhone 4 will still buy the farm because
the front has minimal protection from a thin aluminum facade
. After all, you need to be able to touch the display on the handset. And of course, there is a small hole on the back for the unit's camera. Although the ads mention just the Apple iPhone 4, we would imagine that it will also fit the Apple iPhone 4S.
Would anyone really take on 5 extra pounds of weight in exchange for protection from an incident that seems so far fetched? If you are the real conservative type and want to order the case, you can do so by clicking on the sourcelink.
source:
MarudaiCorp.
(translated),
Dvice
via
Gizmodo