Issue with new iPhone models contradicts a major claim made by Apple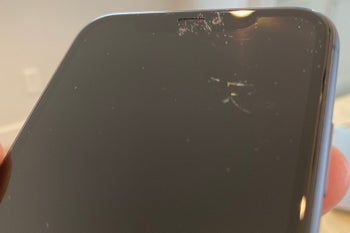 Apple claims that the glass used on the 2019 iPhones is the strongest found on any smartphone

Some of the scratches look like fingerprint smears, but they do not rub off the screen. The phones' owners say that not only weren't the handsets dropped, they also did not come into contact with anything in their pockets that could damage the display such as keys, coins, and other sharp objects. One iPhone11 user pointed out that he has been using an iPhone since the very first generation of the phone was launched back in 2007. He says that he has never used a
screen protector
and never had a serious scratch appear on the display-until now. Others say that they are not impressed with the displays on the iPhone 11 family. Yet Apple has heavily promoted the strength of the glass on both the front and back of its new models. "The toughest glass in any smartphone, front and back," says Apple's website. But this doesn't appear to be the case based on comments from iPhone 11 users.
"I have a legit crack/scratch in my screen that showed up out of nowhere. No drop, no incident... but I can feel it with my nail, but it's not a crack in the sense that it's emanated out or any spider webs. Just a small line-chunk out of the front-facing glass, along with a separate small chunk missing a few millimeters away. Truly almost seems like a defect in the manufacturing to have appeared after 24 hours of use without incident."-cperdue, Apple Communities member
"My wife and me have put our brand new iPhones 11 inside our pocket pants and both screens get scratched the second day of use (mines right in the selfie camera, apple says "without mal function"...). Has someone experimented something similar? We are really disappointed, apple only cares if you have bought "apple care"....we cant use the screen without a protection: worst screen ever..."-MatiasMB, Apple Communities member
"My iPhone 11 looks worse after 1 week than my iPhone 7 did after 3 years. I'll be going to my Apple store and complaining. I haven't bought AppleCare yet but might have to at this rate. FWIW, it doesn't take sharp or metallic objects to cause scratches. Simple normal usage or pockets, setting on tables, etc."-zero-or-one, Apple Communities member
As you might expect, those who have visited the Apple Store toting an iPhone 11 with a scratched up screen are not finding a receptive audience. Instead, they claim that they are being blamed by Apple reps for creating the damage on their phone's display.