Apple is moving some LCD production out of China, but not for the reason you think
2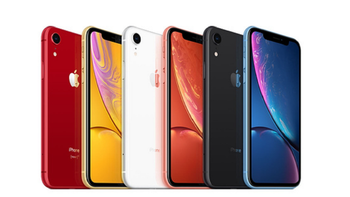 Last month, we told you that
a bailout of Apple LCD supplier Japan Display was running into some trouble
. The company, which produces the Liquid Retina display for the
iPhone XR
and LCD panels for older models, depends on Apple for 60.6% of its business. Because it was late to enter the OLED market, the company has been bleeding red ink. A Chinese state-run fund and a display producer in Taiwan were ready to inject cash into the company for nearly half of its equity. But that deal has been revised partially due to Japan Display's worsening financial condition.
Today,
Japan's Asahi reports
(via
9to5Google
) that Apple will invest $100 million in Japan Display. As part of this bailout, Apple will reportedly increase orders to the supplier for LCD panels, taking business away from its China-based supply chain. The display producer was supposed to receive an injection of $650 million led by China's state-backed Silk Road Fund and Taiwan panel maker TPK Holding Co.;
Japan Display issued a release on Tuesday
saying that it still expects to receive this cash infusion but from different investors. TPK and China have pulled out, and have been replaced by a Chinese investment firm called Harvest Technology and Hong Kong investment firm Oasis. Apple's cash will help Japan Display in the short term while it waits to close on the $650 million restructuring that it still believes will happen. Harvest is expected to put up the equivalent of $500 million with another $150 million coming from Oasis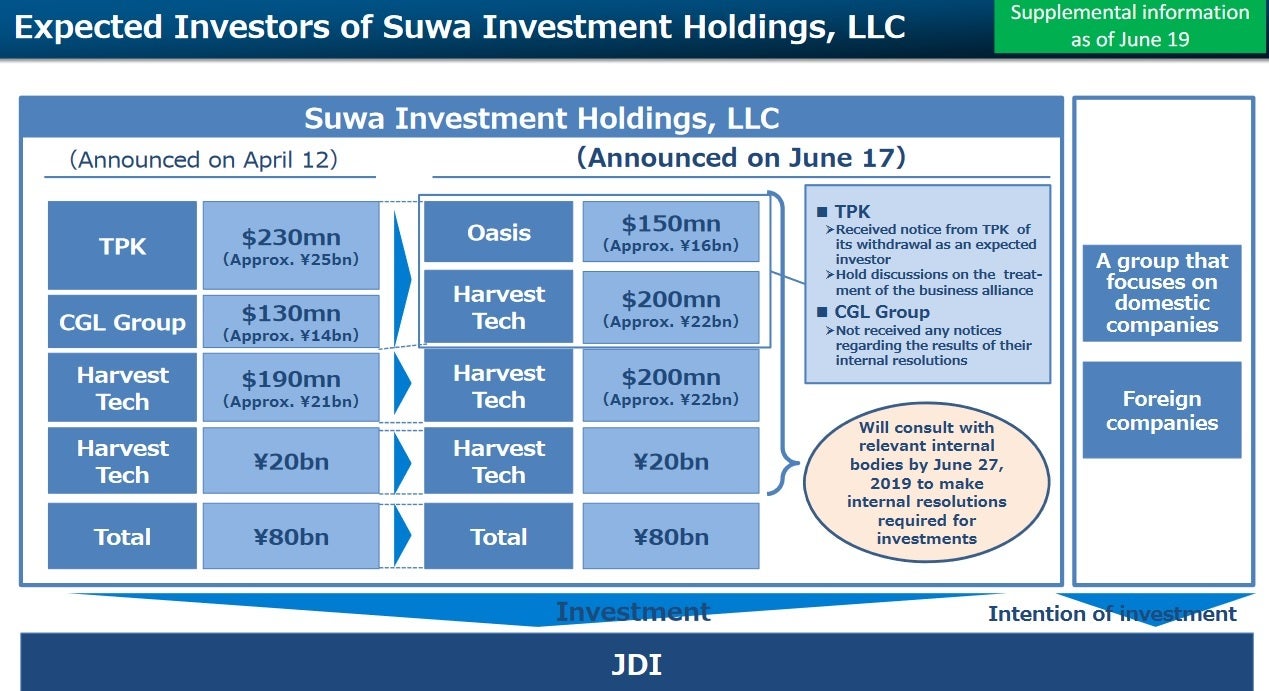 Apple supplier Japan Display still expects to close on a $650 million restructuring of the company
Japan Display lost $2.3 billion in 2018

Besides developing its OLED line too late, Japan Display cut production of the iPhone XR display in December. And while it has continued to lose money, Apple apparently needs to keep the company afloat. Besides producing displays for the iPhone, it does make the OLED screens used on the Apple Watch. This isn't the first time that the tech giant cut a check to its LCD supplier. Back in 2015, Apple fronted the outfit much of the $1.5 billion it cost to build a new LCD plant, although the timing was bad. Because smartphone manufacturers continue to migrate to OLED from LCD, that factory runs at half capacity. And Apple's deal with Japan Display called for it to be reimbursed for the $1.5 billion through a percentage of each display sold. Earlier this year, a report noted that Apple is still owed most of the money that it laid out.
"The total amount of the funds to be procured by JDI accompanied with the investment from the Expected Allotteewill be JPY 80 billion at most, and there is no change from the expected procured amount stated in the press release announced on April 12, 2019"-Japan Display
There is no disputing that Japan Display needs a bailout. In 2017, the company reported a loss of $260 million that ballooned into a huge $2.3 billion deficit last year. Not coincidentally, the first iPhone to sport an OLED panel (the
Apple iPhone X
) was launched late in 2017. Last year, Apple released three models and two of them feature OLED displays. We expect to see no changes to the displays for the 2019 iPhone models expected to be unveiled this September. Apple sources the OLED panels used for the iPhone from Samsung and LG. Next year's iPhones are expected to stick to OLED displays although Japan Display will still be able to supply Apple with LCD panels for older models, just as it does now.
Investors applauded Apple's move by lifting the price of Japan Display's stock price by 39% in New York trading. The company was formed in 2011 when the Innovation Network Corporation of Japan (INCJ) helped merge the display businesses belonging to Sony, Toshiba, and Hitachi. The factories started humming on April 1, 2012.