Apple iPad mini: to be announced October 17th, sales begin November 2nd?
22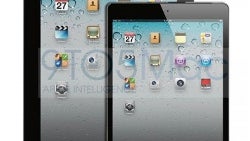 The
Apple iPad mini
rumors just keep on heating up and now that we're in October, the month everyone thinks Apple will unveil a smaller version of the iPad tablet, a rumor has just surfaced pin-pointing the exact announcement date and release cycle. It's coming from a "major Apple investor," and that's as good as it gets with Apple rumors.
The well positioned source claims
Apple will announce a 7.85-inch iPad mini on October 17th
. The press will get invitations to the event one week prior on October 10th.
Best of all, the alleged
iPad mini will launch in stores on November 2nd
, just about two weeks after the event. And this would be great timing, leaving plenty of time for the product to sink in and become the Holiday season gift for many.
So far, the iPad mini is said to be a 7.85-inch device with a 1024 x 768-pixel display. It's expected to be extremely thin at 7.3mm and lightweight as well. The compact iPad is also said to feature the new Lightning connector (we would be surprised if it didn't!) and stereo speakers. Would you buy one, or would you wish you get one?
source:
Forbes