Apple iPad makes up 8% of global mobile PC sales
1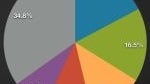 A new study by DisplaySearch names Apple as the third largest supplier of mobile PCs in the world, and the largest
mobile PC
supplier in North America. Just to clarify, mobile PCs include laptops, netbooks, and tablets.
Apple's mobile PCs make up 12% of global sales. That figure is largely thanks to the
Apple iPad
, which makes up 8% of worldwide mobile PC shipments. What's impressive about this figure is that it was accomplished without the iPad being available in all global markets.
The largest mobile PC supplier was HP, with 17.3%, and Acer followed closely behind with 16.5%. Both Dell and Toshiba would have topped Apple, were it not for the iPad's inclusion in the figure.
The study also shows that 95% of the iPad's shipments went to developed countries, whereas other PC manufacturers' figures include sales to developing nations. While the iPad is available in the fertile Japanese market, sales there have been slow. Some analysts attribute that to
language
issues. There also might be the 'Galapagos' issue, where the insular Japanese market tends to prefer homegrown products.
Apple will need to focus on making their iPad more appealing to the Asian markets, where mobile PC sales have increased the most. Language and
market-specific apps
will be an important step in expanding Apple's already-impressive footprint.
source:
GigaOM
via
TUAW