Apple hits Android under the belt once again, claims 54% of Android users run a 2-year old OS
99+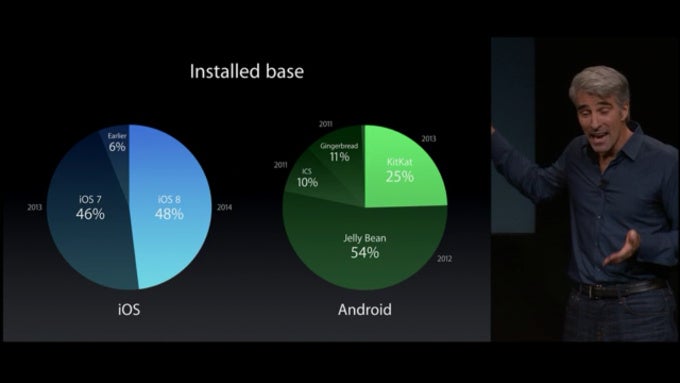 Shots fired, all on target!
Apple's
iPad event is already live
and similar to its last two events, Cupertino did not miss the opportunity to take a straight jab at iOS's most fierce rival – Android. Apple's Craig Federighi boasted that the adoption rate of iOS 8, the latest rendition of the mobile platform, is 48% just after 26 days of being pushed to compatible devices.
Federighi then proceeded by bashing Android and claiming that merely 25% of the users of Google's OS are running the latest version, Android 4.4.x KitKat. He also delivered a final, critical blow under Android's belt by claiming that more than 54% of the users are boasting Android Jelly Bean, a version of the OS that is
"more than 2 years old"
.
However, Craig Federighi forgot to mention that the adoption rate of iOS 8 has stalled during the last weeks. As a matter of fact, the OS had reached
46% only five days after its release on September 17
. So, just 2% for 21 days? Well, blame the crippling bugs that made most iFans stay away from iOS 8.