Apple has been awarded a multi-touch patent
21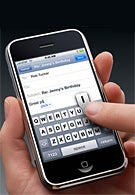 Recently, Apple's acting CEO
Tim Cook had all feelings run high
(especially at Palm), claiming that his company will use any means necessary in order to prove itself as the undisputed owner of the multi-touch technology, and as it seems, Apple is already consolidating its positions.
Patent No. 7479949 is all about the technologies involved with iPhone's touch screen and GUI (graphical user interface). It dates back to September 2007 and features the names of Steve Jobs (co-founder of Apple) and Scott Forstall (iPhone software director). Finally, the patent has been awarded to Apple, which claims coverage for the iPhone and the technologies that make the detection of gestures (like pinching, for example) possible. In addition, a number of other characteristics of the multi-touch user interface like finger swipe and two-thumb twist had been included, as well as a method of determining which object should be selected, in case the user had touched two.
Whether Palm really "rips off" Apple's intellectual property is still a question to be discussed. It is even possible that other companies may also take a side in the quarrel and thus make the final showdown more interesting than expected.
source:
AppleInsider