Apple going Grand: MTA approves world's largest Apple Store in Grand Central
8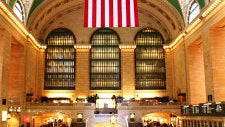 Amidst a growing
"Apple Stoer" boom in China
, the New York's Metropolitan Transit Authority (MTA) has just approved a 10-year deal with Apple for a
23,000 square-foot Apple Store
which will become the company's largest retail location globally. The store will be located in the busiest subway stop in the NYC subway system, Grand Central Terminal, occupying its north and northeastern balconies and will stand out not only with its size but also rent as Cupertino will pay $800,000 per year, more than double the sum Metrazur, the restaurant previously taking up the space, paid. After 10 years, the sum will jump to $1 million annually.
Apple will also be responsible for refurbishing the place, so overall the MTA envisions a minimum of $5 million in profits. The deal will still need to be approved by the financial committee today and by MTA's board of directors on Wednesday, but once that is done Cupertino will have the green light for the Grandest Apple Store. The scale of this? Grand Central Terminal's website explains that
75,000 people pass through the terminal daily
and more than 1,000,000 over the holidays.