Apple releases its first four ads for the HomePod smart speaker
40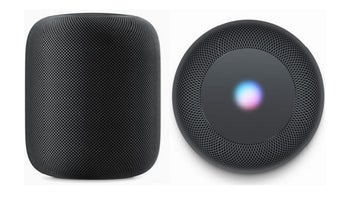 Pre-orders for Apple's HomePod smart speaker have already begun
, and the device is set to be released on February 9th. As a result, Apple has released four new commercials for the device. The four ads are titled Beat, Equalizer, Distortion and Bass. The songs heard playing in the background are, in order, "DNA" by Kendrick Lamar, "All Night" by Big Boi, "Holy Water" by Hembree, and "Ain't I" by Lizzo.
The ads really don't show that much of the HomePod except for quick shots of the mesh that covers most of the smart speaker, and the LCD control panel on top of the device. The remainder of the commercial shows the HomePod name moving to the beat of the music. Near the end of each spot you will see the words "Order Now" quickly appear, reminding you that the pre-order window is now open.
It will be interesting to see how the HomePod fares in what is essentially a two horse race between category originator Amazon, and Google. At $349, Apple is putting its smart speaker squarely in the premium space. Apple CEO Tim Cook says that thanks to the 7 beam-forming tweeters inside the speaker, and the spatial awareness that help it "fill up" a room with sound,
the HomePod provides a superior audio experience
compared to the Amazon Echo and Google Home models.
Check out Apple's first four HomePod ads by clicking on the video slideshow below.
source: Apple (
1
), (
2
), (
3
), (
4
)