Apple files a patent for a flexible display to be used with a wearable device
30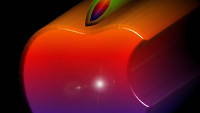 Apple has filed an application for a patent that could have ramifications for the future of the Apple Watch. Called merely "Wearable Display," the patent covers a conformable electronic device and the production of it. The display would have the "curvature for a bracelet or a wrist watch," the patent reads.
The display would be made of a a silicon substrate with a thickness of 50 micrometers or less. The technology would seem useful for a future iteration of the Apple Watch. The patent, originally filed in 2014, is being credited to Andreas Bibl and Hsin-Hua Hu. The former was the CEO of LuxVue, a company that was purchased by Apple in 2014. The firm specialized in micro-LED technology, and LED arrays are used in the production of the flexible displays mentioned in the patent application.
The timing of this application release couldn't be better. Earlier today Lenovo briefly showed off the future when it had YouTube personality Meghan McCarthy
show off prototypes of a flexible smartphone and a flexible tablet at Tech World
.
source:
USPTO
via
AppleInsider