Apple's new headquarters will be flush with fruit trees blossoming around Steve Jobs's birthday
17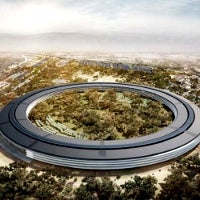 The updated plans for
Apple's new headquarters
, the roof of which will be entirely covered in solar panels, has been submitted for further consideration to the Cupertino council, revealing a rather Zen future for Apple employees.
Inspired by the work of the young Steve Jobs in an orchard pruning trees, the center of the campus will be lined up with plum trees, which will start to blossom in late February, around SJ's birthday in pink and white. Afterwards in March and April it will be the turn of cherry trees which will line up the walkways.
Apricot trees will finish the fruit blossom symphony when the summer approaches, and in the center of the "spaceship" headquarters there will be an orchard of... you'll never guess... apple trees, surrounding the dining terrace. Hopefully the Pentagon, which many say Apple's HQ resembles, doesn't pick any ideas for its own inner courtyard, as the respect for our military will be significantly affected. Keep the hotdog stand there and all will be fine.
source:
Forbes