Apple cutting down iPhone 5c production on slow demand, compensates with more iPhone 5s orders
51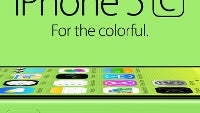 Apple is said to be cutting down iPhone 5c production and bumping iPhone 5s manufacturing as all clues point to a weaker than expected demand for Apple's new plastic and colorful iPhone. Apple has warned its two biggest manufacturers in China, Hon Hai and Pegatron, that it is trimming down iPhone 5c orders, according to the Wall Street Journal.
The two Taiwanese assembling companies were allegedly told that iPhone 5c orders will be cut in the fourth quarter of the year. Pegatron is estimated to be making two thirds of the iPhone 5c and it expects to see a 20% drop in orders, a loss that it won't be able to compensate for and will likely hurt the manufacturer significantly. Hon Hai, manufacturing the remaining third of iPhone 5c, will allegedly cut production by 30%. Component makers have also received the note and some are saying the cuts will reach 50%.
Update:
Now Reuters also confirms the cuts in orders for the iPhone 5c to manufacturers. This adds even more credibility to this rumor, and we'd treat this as close to a fact as it gets.
Why manufacturing numbers matter hugely, they are not the only conclusive evidence for lackluster demand for the iPhone 5c. Just looking at Apple Store shipping times shows that iPhone 5c would ship to customers within just 24 hours, while for the iPhone 5s the waiting time is 2 to 3 weeks.
More evidence for the slow demand for the colorful plastic iPhone could be found in the almost instant price cuts across retailer stores like Wal-Mart. The retailer
dropped the iPhone 5c price by $20
almost right after its launch, and others have been
offering the device for $49.99 on contract
, an unprecedented $50 drop in price for the Apple device.
Apple announced record sales of 9 million units of its new iPhones over the first weekend of availability, but did not break down sales per model. In contrast with the iPhone 5c, the higher-end iPhone 5s with Touch ID fingerprint sensor technology, is in high demand with particular interest focused on the gold-colored version.
source:
Wall Street Journal