Buy the Apple iPhone 5c from Walmart for $45 on contract; retailer undercuts Best Buy's $50 deal
17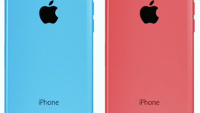 Early this morning, when you were getting ready for work and we were already slaving over a hot QWERTY keyboard, we told you that Best Buy was offering the
Apple iPhone 5c
for
just $49.99 with a signed two-year contract
. Now comes word from Walmart that they will undercut the big box retailer and offer the mid-range version of the iPhone for $45. And while Best Buy's deal goes bye-bye when the sun rises on Monday morning, Walmart's price will remain in effect during the holidays.
Walmart spokesperson Sarah McKinney was asked if the price cut was made as a response to Best Buy's action and she said that the deep discounter is "
always looking for ways to surprise our customers with low prices and disrupt the competition
." In fact,
Walmart had the phone $20 off on launch at $79.99 on contract
.
The real question here is, how will Apple spin all of this discounting? It certainly doesn't bode too well for sales of the candy coated iPhone 5c if we are already in the middle of a price war involving two high volume sellers. It also could mean that the Touch ID is a feature that the public is hot for and so the Apple iPhone 5s is getting the lion's share of the business. We told you the other day that
within 6 months, similar fingerprint sensors will be seen on new Android models
. Already,
we have seen a fingerprint sensor
on prototypes of the
HTC One Max
.
Wow! How did we end up here? Let's get back on track. Apple iPhone 5c. $45 on contract. Walmart.
source: Walmart via
TechnoBuffalo
,
IntoMobile