Best Buy slashes $50 off the iPhone 5c and Galaxy S4
9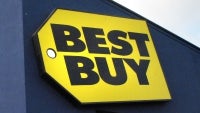 For a limited time only, Best Buy has announced that it'll be slashing the upfront cost of the Apple iPhone 5c and the Samsung Galaxy S4. In terms of the freshly-off-the-conveyor-belt iPhone 5c, this also equals a 50% reduction, as Apple's unapologetically plastic rehash of the iPhone 5 initially retailed for $99.
The discount in question is actually a gift card that customers will be eligible for after they place an order for the iPhone 5c (or the Galaxy S4). In case you were already eying either of the two, keep in mind that the offer is only valid until October 7.
This isn't something new for Best Buy, though while we see why the Galaxy S4 should prove a perfect candidate for the discount (considering its age), it's kind of surprising to see the consumer electronics giant slashing the price of the minty fresh 5c just two week after it launched. Whether that has anything to do with the sales performance of the device remains kind of ambiguous, though a company official has said in a statement that the intent is primarily to drive traffic:
"We view ourselves as a company that offers consumers something they can't get anywhere else -- all the phones, all the plans, all the carriers -- and look for any opportunity to delight our customers" a Best Buy official commented.
In related news, Best Buy isn't the only retailer to squeeze the price of the colorful handset – both Walmart and Target have been selling the iPhone 5c for $80 upfront since launch, that's $20 less than what it would cost you to pick it up from Apple's store.
source:
ABC News