South Park's season debut focuses on Apple and the HumanCentiPad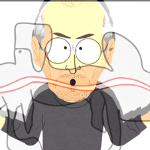 Is this really the 15th season opener for
South Park
? The
abrasive
animated series has poked fun at things that many hold near and dear to their heart. So of course, it would make sense that Apple would be due to be made fun of by the cartoon's creative staff of Matt Stone and Trey Parker, especially since Apple has refused to put a
South Park
app in the App Store.
In Wednesday's episode, Apple CEO Steve Jobs introduces the revolutionary HumanCentiPad. For a quick preview of the episode, check out the clip below. And just in case you're curious,
The Simpsons

made fun of Apple
by having a tech company named Mapple in one episode. The CEO of Mapple? None other than Steve Mobs, of course.
South Park
is more
extreme
than
The Simpsons
so there is no telling what the targets will be. Will the "Death Grip" get picked on? Will we see a story line about the (soon to be ex-mythical) white Apple iPhone 4? Will Jobs' tirade against Adobe be fodder for comedy?
South Park
fans know how Matt and Trey's mind works, so you can imagine that by Wednesday night, even the most stoic Apple fanboy will be
cringing
in front of his television set.
source:
SouthParkStudios