Apple closing in on Android says Nielsen
23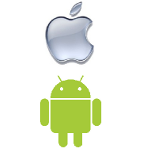 Thanks to the launch of the new
Apple iPhone 4S
during the fourth quarter, the three month period ending last month saw the iPhone pick up some market share from Google's open source OS. This is according to the latest figures released by Nielsen. While more than half of new smartphone buyers in the U.S. selecting an Android phone in Q4, the platform's market share
dropped by 12%
during the three months ending in December.
Strong demand for the Apple iPhone 4S following the launch of the latest iteration of the device allowed the handset to grab 44% of stateside smartphone sales in December, just 2% shy of the market share tallied by Android models. Whenever a new Apple iPhone model is launched,
there is a rush to buy the device
, even by smartphone newbs. For example, the percentage of buyers in the U.S. whom selected an Apple iPhone 4S over an Android or BlackBerry model
doubled sequentially
from the September quarter (when there was no new Apple iPhone model) to the December period which includes the unit's launch in October.
Apple's closing of the gap between itself and Android seems more impressive than one might think considering that there were
few new features
between the Apple iPhone 4 and the iPhone 4S. The A5 dual-core processor, 8MP camera and Siri are the most prominent changes between the two models. The figures suggest that Android's
claimed 700,000 daily activations
are not enough to run away from Apple. the gap might even close more when the Apple iPhone 5 is released. The latter is
rumored to be redesigned
and there is speculation that it will come to market with a 4 inch screen, a
quad-core
A6 processor and LTE connectivity. If this does pan out, the Apple iPhone 5 will bring the handset closer to an equal playing field with Android models, many of which already have screens over 4 inches and offer LTE connectivity.
source:
Forbes