Obvious alert! Analyst says iPhone 5 will be a "radical update"
46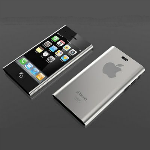 We know that pre-CES is a bit of a down time for tech news, so analysts have little to do, but this one seems especially unnecessary to us. An analyst for Sterne Agee has gone on record with a couple statements on the iPhone 5 which make us question what exactly the requirements are for being an analyst.
In a note to clients today, Shaw Wu made the bold proclamations that the iPhone 5 will be Apple's "most important catalyst" this year, and that it will overshadow both the iPad 3 and the iTV, which is expected to be Siri-powered and launch this summer. To prove this point, Wu mentioned that the iPhone is "arguably" (though we don't know who is arguing this point) the most important single product in Apple's lineup, also noting that in the fiscal year 2011, the iPhone represented 40% of Apple's revenue, and likely at least 60% of profits. (Though the analyst didn't seem to mention the ridiculously high subsidies that Apple gets from carriers as the reason for the profits.)
Going even further with the analysis of things we already know, Wu cited supply chain sources which point towards a "radical" redesign for the iPhone 5, with an LTE radio, larger screen, thinner case, and sleeker form factor.
Let's recap: Obvious point #1: the iPhone 5 will be a radical redesign (obvious because this has happened with every iPhone that doesn't end in "S"). Obvious point #2: bigger screen, thinner, and LTE (the screen was inevitable, as was a thinner design, and LTE has to come eventually, so why not predict it every year?) Obvious point #3: the iPhone will overshadow the iPad 3 and iTV (come on, that's like saying the USA is going to overshadow Canada and Mexico in North American news this year.)
Okay, we've used up our snark for the day. Let's get back to some real news.
(Side note: the image we've used for this article is nothing but a mockup, and likely has no resemblance to the actual iPhone 5 design.)