Apple brings out 3 new whimsical ads for the Apple iPhone 5, and one for the EarPods
39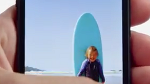 Ever since the launch of the original Apple iPhone, Apple has rolled out a timely new add campaign. Many feel that the very first series of spots were the best. Last year, with the incremental changes on the
Apple iPhone 4S
, Apple had to focus on Siri, which was one of the few changes to the device. This year, Apple has released three ads for the
Apple iPhone 5
with another spot focused on the new Apple EarPods. While each spot
does focus on a feature of the phone
, they also are whimsical in nature.
When you think of some past ads for phones that showed nothing about how the phone works, you think about the commercials for the
LG Dare
. The ads for the old Verizon sold featurephone merely showed people in dangerous situation "daring" to touch the phone. What did standing on the ledge of a tall building have to do with the workings of a phone?
The four ads Apple has produced for the Apple iPhone 5 include one showing how your thumb can still swipe and reach most of the screen despite the increase in tjhe size of the display to 4 inches. Another spot cleverly shows the new panorama feature available on the phone's camera application. The next ad asks how something can get bigger and smaller at the same time. You'll have to see the ad to understand this puzzle. The last spot deals with the new Apple EarPods, which come in the box with the Apple iPhone 5. The message in that commercial is that ears aren't round, so why should regular ear buds be that shape.
Expect to see these ads in heavy rotation on network television just as the new fall television season premieres.
source: YouTube (
1
), (
2
), (
3
), (
4
) via
AppleInsider