Apple blocks unauthorized Lightning cables with iOS 7
49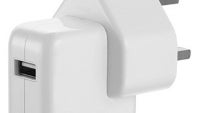 In a move possibly triggered by stories of deadly electrical shocks coming from Apple iPhone and Apple iPad units, the Cupertino based tech giant is blocking the use of unauthorized third party Lightning cables with iOS 7. Those cables authorized for use with an iPhone or iPad, contain a chip that authenticates the cable allowing it to be used with the device. There is word going around that some unauthorized cables with cracked chips have been working with iOS 7. Apple will probably shut the door on the usage of the latter in a future update.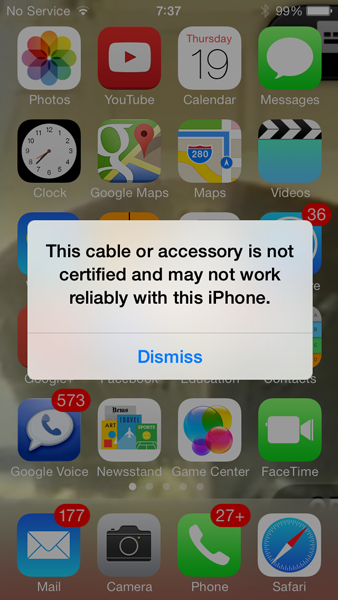 If you use an unauthorized charger with iOS 7, you should see this warning
Additionally, there is allegedly a workaround that will allow the unauthorized cables to work with iOS 7. The process is said to be long enough to get those using a hazardous cable to switch to an official Apple produced cable. Back in July,
Apple's website in China displayed the characteristics of an official Apple charger
. This came
after an incident that killed 23 year old flight attendant Ma Ai Lun
. Lun was allegedly killed from an electrical charge that came out of her
Apple iPhone 5
while she was answering a call. The phone was plugged into an outlet at the time, using an unauthorized charger.
Other situations took place afterward,
including a man shocked into a coma
by his
Apple iPhone 4
, and another man who
allegedly went flying across the room
when he touched his daughter's Apple iPad. In order to get unauthorized chargers out of commission,
Apple started a trade-in offer where it would sell an Apple authorized charger for $10
to anyone bringing in a knock-off or unauthorized third party charger. The offer is available in the U.S., China, and other countries such as Australia ($14 AUD), Canada ($11 CAD), France (€10), Germany (€10), Japan (¥1,000), and the United Kingdom (10 GBP).
source:
GSMArena