Apple extends third party charger trade-in plan to the U.K., Canada and Australia
5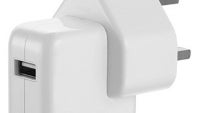 Last week, we told you about
Apple's plan to take third party chargers off the street
in the U.S.and China. Apple is doing this in the aftermath of a couple of incidents in China that have left
one Apple iPhone 5 user dead
, and
one Apple iPhone 4 user in a coma
. In both cases, the victim had answered the phone while it
was being recharged
. And as it turns out, both users had third party chargers.
At first,
Apple put up a special website in China
to show iPhone users how to tell if the charger they are using is an official Apple product. Then, the Cupertino based firm announced its trade-in plan. With the plan, those trading in a third party charger to an Apple Store or an authorized Apple service provider, will get to buy an official Apple branded replacement for
just $10
.
The trade-in plan started this past Friday in China. And while it will start this Friday in the U.S. as expected, Apple has added some more countries to its support page for the trade-in. So besides the U.S., this Friday the plan will also be available in Australia ($14 AUD), Canada ($11 CAD), France (€10), Germany (€10), Japan (¥1,000), and the United Kingdom (10 GBP).
Each store will also have at least one iOS "Genius" on hand to help with the trade-in. Apple Stores have started training its staff to help them learn how to discount the Apple chargers that are being sold for a pretty decent discount. But Apple doesn't mind taking the loss here. Even if the incidents are due to the use of non-Apple chargers, just having the
Apple iPhone 5
mentioned in the same breathe as an electrocution can't be good for business.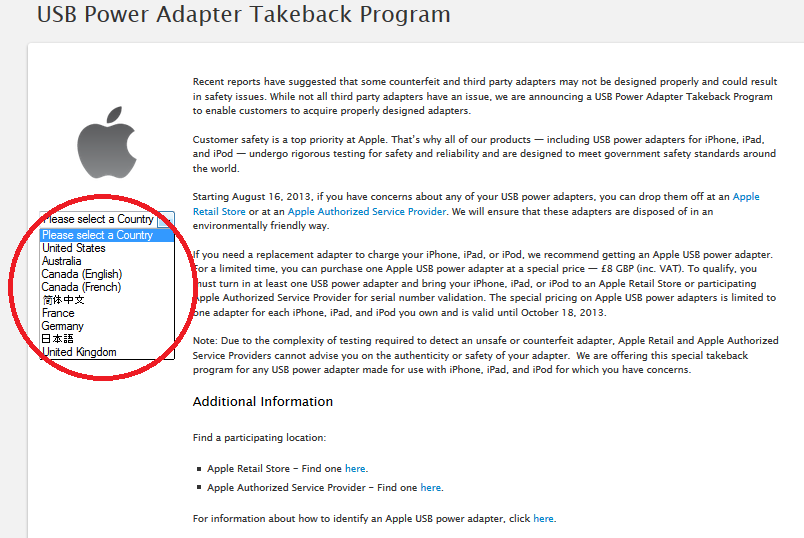 Apple is extending its charger trade-in plan to other countries
source:
Apple
via
9to5Mac
,
Engadget