8 year old's Apple iPad charger shocks Dad, sends him flying across the room
71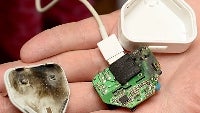 A story out of the U.K. this morning could have been more tragic, and as it turned out, the events still left a father's fingers burned. Eight-year old Chloe Gillooley owns an Apple iPad. Nothing unusual about that. After all, many children these days own a tablet and a smartphone. Last Saturday, Chloe was at her grandmother's home in Widnes, Cheshire along with her 34 year old dad, Tim.
At some point in the afternoon, Chloe asked her dad to unplug her iPad for her. Tim, who was coming out of the bathroom, received what was described as a "massive electric shock" that sent him flying across the room and left him with blackened fingers. The scariest part of the whole ordeal for the dad came when he realized that the severity of the shock probably would have meant death for his daughter, had she been the one who was hit by the electricity.
"There was a huge bang and it blew me across the room. I was in shock. I was hysterically laughing for about two minutes. It was a bad shock that went down my arm. My mum was panicking and Chloe burst into tears. Nine times out of 10, Chloe would have gone to get it herself. I think it would have killed her."
-Tim Gillooley
Before you start to fear going near your Apple iPad without brandishing a cross or holding some garlic, there were some warning signs. Gillooley had purchased the slate from the Apple Store in Liverpool for Chloe's birthday last November and when it developed problems with the charger, he returned the device to the store where he was told that there was nothing wrong with the tablet itself or the charger. But Gillooley dug deep into his pocket anyway and purchased an official Apple branded lightning cable.
Apple is investigating the claim and has requested that Gillooley send them the remains of the charger. The incident has left this U.K. family wary of touching their Apple products. "
We were big fans of Apple but I won't let my daughter near her iPhone if it's a ticking time bomb
," Gillooley said.
This becomes the latest incident in a series of electric shocks that have killed and injured some Apple iPhone and iPad users. Apple has updated its website in China
to show consumers there what an officially branded Apple charger looks like
. The Cupertino based manufacturer also has
started a trade-in program offering discounted Apple branded chargers
to those who turn in their third party plugs and cables.
Thanks, Anonymous Tipster!
source:
DailyMail