Apple and Samsung square off in court for day 3 of trial on damages issue
17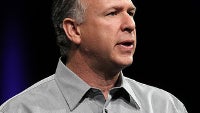 Apple and Samsung faced off in court as the damages trial continued on Thursday. You might remember that this past March, Judge Koh ruled that the jury mistakenly presented Apple with just one damage award on certain Samsung devices, even when the jury voted that these specific models infringed on more than one patent. As a result,
Koh vacated $450 million in damages and ordered a new trial
on those devices only. Apple is seeking a payment of about $380 million while Samsung says that the correct figure should be $52 million.
During Thursday's court session. Apple's Senior VP of worldwide marketing, Phil Schiller, took to the stand to discuss how the Apple iPhone turned into a '
bet-the-company
' product. Ironically, work on the iPad pre-dated initial development of Apple's iconic smartphone. While 100 people originally worked on the handset, now "
almost everyone
" at Apple does, according to Schiller.
Most of the day's testimony came from Julie Davis, an expert accountant hired by Apple whose job is to determine how much Samsung owes Apple for infringing on its patents. Davis said that Apple lost sales because of the patent infringement, and even if it hadn't, Samsung should pay $287 million. Another expert witness, MIT Professor John Hauser, testified that in a $199 smartphone, Apple has three patents that people would pay $100 additional to have on a phone. One is the bounce back feature at the bottom of a page that is over-scrolled.
"There were huge risks [with the first iPhone]. We had a saying inside the company that it was a 'bet-the-company' product...We were starting to do well again in iPod...Then here we're going to invest all these resources, financial as well as people, in creating this product."
-Phil Schiler, SVP Worldwide Marketing, Apple
Apple bases its $380 million demand on $114 million in profits it lost due to the infringement, Samsung's profits of $231 million and licensing fees of $35 million. Apple says that had Samsung not sold infringing models, it would have sold 360,000 more iPhones. Samsung's position is that Apple should not receive damages for lost profits, but should receive $52.7 million for Samsung's sales and $28,452 for royalties. That figure is low because Samsung says that the patents had limitations. Among the devices involved in the damages trial, the original jury ruled that the
Samsung Galaxy Prevail
was responsible for $57.9 million in damages. Koh said that this showed how mistaken the jury was since the phone was found to have infringed on utility patents, not design patents.
Thursday's court session was day three of the current damages trial. Jury selection took place on Tuesday and the trial is expected to last 6 days before it goes to the 6 women and 2 men on the jury, for deliberations. Besides this legal battle, a whole new patent trial between the two rivals takes place in March, Judge Koh asked both sides to hold settlement talks and submit a proposal on January 8th.
source:
CNET
Recommended Stories