Apple and Samsung resume settlement talks, but no deal is imminent
16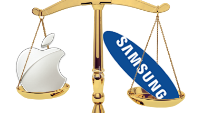 Apple and Samsung have been in a bitter back-and-forth lawsuit battle for the past couple years. Apple
won the first round
, and Samsung has been looking
better in the second round
, but really there will be no winners in this battle. The two companies have returned to the negotiation table to try to work out a settlement, but so far there is no deal on the horizon.
According to
The Wall Street Journal
, Apple and Samsung have held a series of negotiations since Apple's big win last summer. The two companies met for face-to-face negotiations in December on Samsung's home turf of Seoul, South Korea; and, although talks supposedly broke down in February, word has it that there are still negotiations ongoing in the leadup to the
next showdown in court next month
.
Heavily redacted documents from the ITC have shown that Samsung is pushing for a broad patent cross-licensing deal which would settle all litigation between the companies, and completely put an end to this war. At least from the documents, it is unclear if Apple is open to such an idea, though CEO Tim Cook has
expressed interest in settling
lawsuits in the past.
source:
WSJ
(subscription required)