Apple adds another rule forcing iPhone and iPad users to employ a passcode to unlock their device
6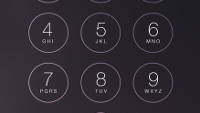 Under certain circumstances, an Apple iPhone or iPad user who has TouchID enabled must unlock his device using a passcode. One rule forcing the use of a passcode comes into play if an iDevice is rebooted or hasn't been unlocked in 48 hours. Additionally, if a new user has his or her finger added to TouchID, or a lock command is issued from
Find My iPhone
, or after five straight unsuccessful TouchID log-in attempts, a passcode must be used to unlock the iOS device.
Now, Apple has added a new rule that similarly requires the use of the passcode keyboard to unlock an iDevice. If you haven't used a passcode to unlock your iPhone or iPad in six or more days, and at the same time TouchID hasn't been employed in eight hours, you will need to tap in your passcode to unlock your phone or tablet.
The new rule could have an impact on law enforcement. This year there have been a spate of cases involving locked iPhone units that the FBI or local police needed to have unlocked while searching for evidence. In the case of the
Apple iPhone 5c
belonging to San Bernardino shooter Syed Farook, Apple ignored a court order forcing them to unlock the device, saying that
it could not open the handset without developing a special version of iOS
dubbed Govt.OS. Eventually, the government was
forced to pay a third party to unlock the device
.
source:
Macworld
via
AppleInsider