Apple Watch turns one; device sold twice as many units in its first year as the OG iPhone did
20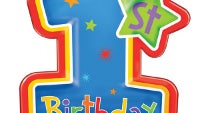 Today is the one-year anniversary of the launch of the Apple Watch. And according to some analysts, it was quite a first year for Apple's newest product since 2010's Apple iPad. Wall Street analysts estimate that Apple sold 12 million watches in its first year, accounting for 61% of global smartwatch sales. At an average price of $500 for each unit sold, the watch is believed to have brought in $6 billion in revenue for Apple.
Not that this necessarily is a sign of its future popularity, but Apple's smartwatch sold twice the number of units in its rookie year than the 6 million handsets Apple sold during the iPhone's first year. Still, not everyone raves about the timepiece, with some calling it slow and others complaining that the watch has yet to reach that level of being "indispensable." But those complaining are definitely in the minority. A survey conducted last week among 1150 Apple Watch users by Wristly, found that 93% of Apple Watch users were "satisfied" or "very satisfied" with their smartwatch.
Apple is reportedly working on the next version of the Apple Watch. Said to be thinner and carrying a faster processor, Apple Watch owners are hoping that the second generation model will connect to a cellular network using an eSIM. This would allow the Apple Watch to make or take phone calls directly from the user's wrist, and would allow the unit to function without being paired to an Apple iPhone. We expect to see the second generation Apple Watch some time later this year.
Just the other day, Apple announced that any new app developed for watchOS 2 and submitted to the App Store starting on June 1st,
would have to run as a native app
instead of streaming from a paired iPhone. This would make opening apps on the Apple Watch faster and smoother.
source:
WSJ