Apple Watch Series 3 users in China have their cellular connection cut off abruptly
10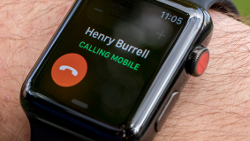 Apple Watch Series 3 users in China were enjoying the wearable's new stand alone capability that allows it to make calls, send and receive texts, and go online even without pairing with a nearby Apple iPhone. But on September 28th, just a few days after the timepiece launched globally, China pulled the cellular connection from the Apple Watch. The apparent reason for this action has to do with how China monitors its citizens who use cellular enabled devices.
The Chinese government requires consumers who need a SIM card for an online device, to register their real name with the wireless operator that they subscribe to. All three of the country's wireless carriers are run by the state. The problem with the Apple Watch is that it uses an eSIM, which is a small embedded SIM card placed inside the timepiece by Apple. The eSIM allows the Apple Watch Series 3 owner to decide which carrier and plan he/she wants to use. And that makes it more difficult for the Chinese government to track users of this smartwatch.
When the watch went on sale on September 22nd, only qualified China Unicom subscribers were allowed to connect to the carrier's cellular network. The China Unicom website says that the cellular connectivity was offered only on a trial basis. In a statement, all Apple can say is that it was informed by China Unicom that the cellular feature on the Apple Watch Series 3 "has been suspended."
So far, there seems to be no clue as to when China Unicom will flip the switch and turn the cellular connectivity back on for Apple Watch Series 3 owners in China. Whenever that happens, it can't be soon enough for an Apple Watch Series 3 owner like 19-year old Qiu Tian, who paid $600 for the smartwatch on the September 22nd launch date. The teen said that he figured the cellular connectivity feature wouldn't be fully supported by the three Chinese carriers, but he didn't expect the plug to be pulled so quickly.
source:
WSJ