Apple Watch Series 2 teardown by iFixit reveals 273mAh battery inside, multiple gaskets
9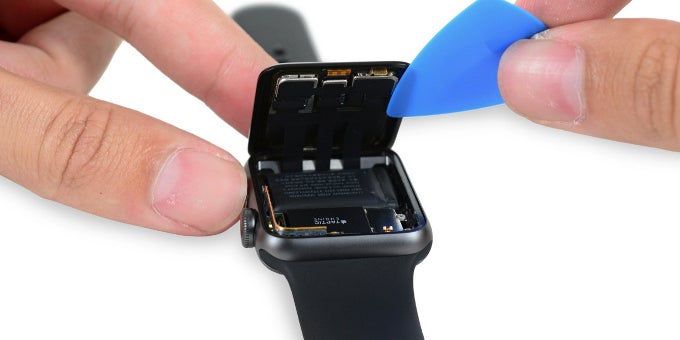 Apart from two
new iPhones
, we shouldn't forget that Apple also unveiled the second generation of its "most personal" device yet, the
Apple Watch Series 2
. Although it looks largely the same on the outside, it's quite different on the inside. First of all, it's packing a new dual-core chipset, which is reportedly 50% faster than the one found on the first gen device; the same applies to the GPU of the wearable. It also packs a brighter display, now has a GPS in store, and finally and probably most importantly, the Apple Watch Series 2 is waterproof.
''Whoa, reading about specs and features is so exciting, much fun,''
said no one ever. Ditto.
Luckily for all of us who find specs sheets such a massive yawn, iFixit is here to help with a timely teardown of the wearable, giving us a sneak peek of its well-guarded insides. Some of the more interesting pieces of hardware we get to see are the 273mAh battery, which is held in place with enough adhesive to hold an iPad screen in place, as well as that intriguing loudspeaker that has the ability to drive excess water outside from itself and the body of the wearable, an essential for waterproofing the device. Naturally, the multiple gaskets inside are also to 'blame' for the waterproofness.
Save for the tons od adhesive holding the battery in place, iFixit's teardown instilled in us the impression that the second-gen Apple Watch is easy to fix if such a necessity arises, perish the thought. No repairability score was given, but we are certain the wearable would have scored high. Check the teardown right below.
Read more: