Apple News+ subscription service is announced with 300+ magazines to flip through
7
Four years ago, we got our first glimpse at Apple News, designed to provide millions of iOS users with easy access to curated, top-quality journalism. Today, Apple's service is the number one news app, with over 5 billion articles being read each month. And the number is only going to grow higher, it seems.
At today's
"It's Show Time"
event, Apple announced a major new addition to its service. It is called Apple News+ – a premium subscription that opens the gates to even more high-quality content for $9.99 per month.
Apple News+ is like Netflix or Spotify, but for news and articles
First and foremost, it must be made clear that at its core, Apple News will remain free. If you're already using Apple's service, you'll still have access to top and trending stories curated by Apple's editors, as well as to your feed tailored to your interests. But with Apple News+, you'll gain access to premium publications, including The Wall Street Journal and Los Angeles Times, both of which require users to pay a fee to access all of their content.
It is important to note that Apple News+ will not make all of The Wall Street Journal's content accessible, as reported by
The Verge
. Only a hand-picked selection of
"general interest news"
will be featured instead. Normally, a 12-month subscription to The Wall Street Journal costs $15.60 per month.
But the biggest reason to upgrade to News+ is the inclusion of magazines to the collection of articles you can explore. The list includes current and past issues of over 300+ magazines covering a broad range of topics and interests. Here are just some of the names on the list:
Business and Politics:

TIME, The Atlantic, The New Yorker

Style and Beauty:

Vogue, InStyle, ELLE

Food:

Bon Appétit, Food & Wine, Saveur

Sports:

Sports Illustrated, ESPN, Runner's World

Travel & Regional:

Condé Nast Traveler, Travel + Leisure, Outside

Entertainment:

People, Vanity Fair, Entertainment Weekly

Science & Tech:

WIRED, National Geographic, Scientific American

Subscribing to News+ also grants you access to popular online Publications, including Vox, theSkimm, The Cut, and Vulture.
Apple points out that subscribing to each and every magazine and news outlet bundled in News+ would cost $8000 per year. This makes its own $9.99 monthly fee seem like a killer bargain, especially considering that you can share the service with family members at no charge.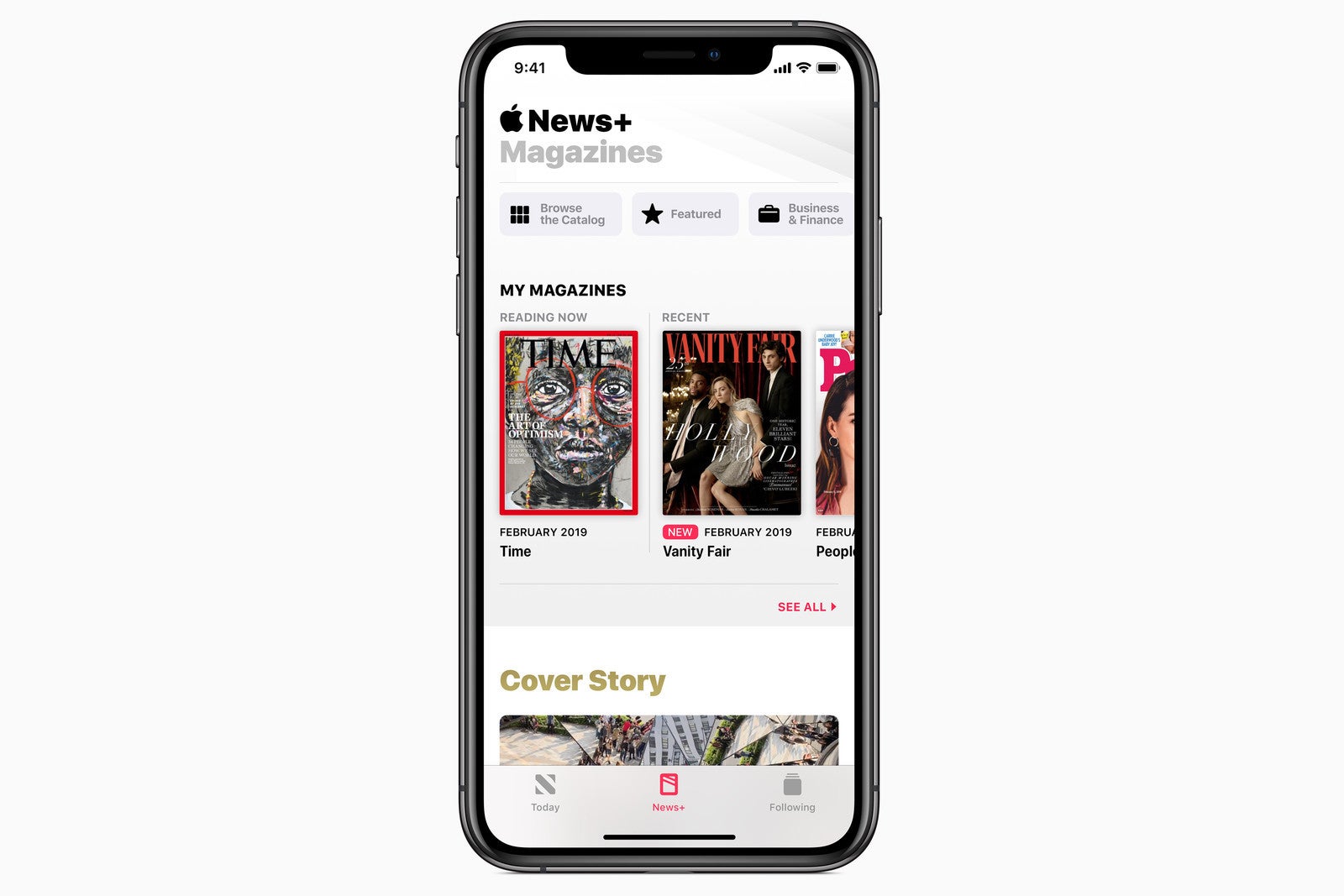 Rich in content, richer in imagery
To no surprise, Apple is pushing News+ as more than just a service. It is described as a next-level experience, and a lot of that has to do with the way content is presented. Magazines, in particular, are made to grab the attention with subtly animated covers, and the effect is pretty cool, we have to admit. A significant amount of time during the presentation was spent on showing off the ease of use of the service: from switching between articles with a swipe to jumping straight into an article of interest from the index page. Naturally, magazine articles are made to look spectacular on the iPad.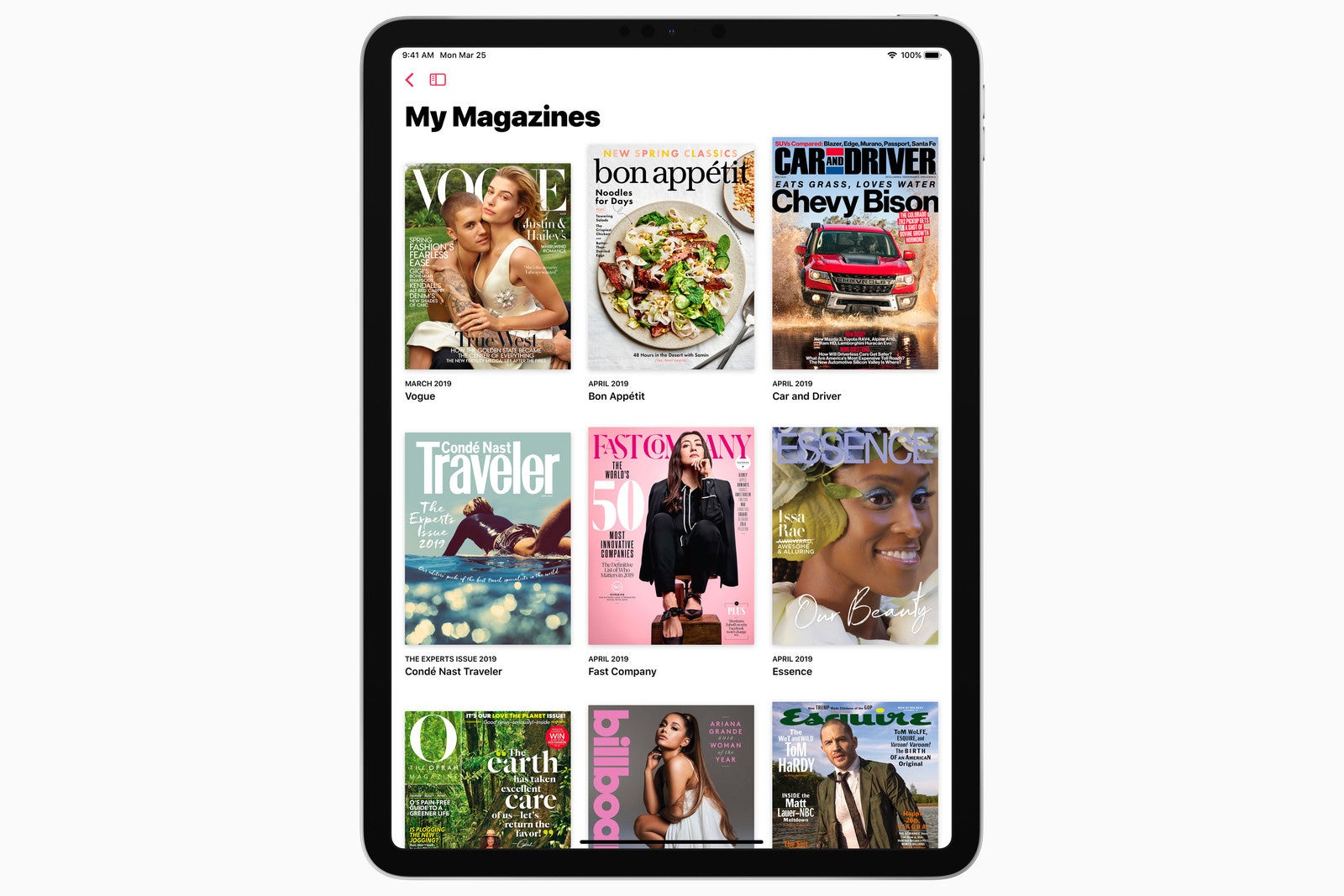 Apple News+ price and availability
Apple News+ will be made available today to iPhone, iPad, and Mac users, although they will need to download an app update to use the service. At first, Apple's premium news subscription will be available only in the US and Canada – for $9.99 and $12.99, respectively – but an expansion in Australia and the UK is planned for the fall of 2019. Subscribers get the first month for free. Readers in Canada will gain access to over 30 popular Canadian magazines, as well as to popular Canadian media The Toronto Star. Up to six family members may enjoy one News+ subscription through Apple's Family Sharing.