Apple and Microsoft clash over Project xCloud for iOS
2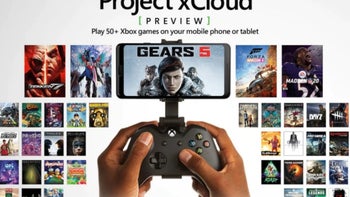 Apple
continues to be that company that wants to make things its own way, even if that means preventing its users from accessing certain content. iOS is a wonderful ecosystem and as long as you don't expect the same level of freedom that you would get on an Android device, everything should be fine and dandy.
However, the moment you want all the new stuff that Android and other ecosystems are getting, you'll be very disappointed since Apple's very strict guidelines don't allow iOS to embrace all the good things coming out every once in a while.
Microsoft announced last week
that it will launch its Project xCloud gaming service on September 15 and since the cloud gaming service is compatible with Android, Xbox Game Pass Ultimate members will be able to play more than 100 PC and Xbox games on their smartphones and tablets via the cloud. In fact, the plan is to add all Xbox One games to the Project xCloud's compatibility list, so this is just a start for Microsoft's cloud gaming service. But wait, there's more. Microsoft confirmed that even Xbox and Xbox 360 games that can be played on the Xbox One will be supported by Project xCloud sooner or later. Player will even be able to use special clips and controller approved by Microsoft to play games on their phones.
Surprisingly, Microsoft's official announcement doesn't include any references to Apple's iOS, even though Project xCloud was tested on iOS during the beta period. Well, we now know why iOS users won't be allowed to play via Microsoft's Project xCloud: these cloud gaming services violate Apple's App Store guidelines.
In a statement for
Business Insider
, Apple said that Project xCloud, NVIDIA GeForce NOW, and Google Stadia will never be officially accessible via an iOS device because Apple won't allow it. The reason is that Apple can't individually review every app that these services offer access to.
The App Store was created to be a safe and trusted place for customers to discover and download apps, and a great business opportunity for all developers. Before they go on our store, all apps are reviewed against the same set of guidelines that are intended to protect customers and provide a fair and level playing field to developers.
Meanwhile, many apps blatantly copy popular games (i.e. Fall Guys), and haven't been removed from either Android or iOS apps stores.
One other reason for Apple to prevent cloud gaming service to make use of its iOS platform is that the Cupertino-based company already has a rival game subscription service – Apple Arcade.
Interestingly enough, Apple cites its strict App Store guidelines as the main reason for preventing users to access Project xCloud, but all the games in the catalog are already rated by independent industry rating bodies, which are much more qualified than Apple. As such, they don't need to be individually reviewed by Apple.
Apple's App Store policies are bad for developers and users
Microsoft offered
The Verge
an official statement regarding the issue, and it looks like Apple sees these cloud gaming services a real threat for its ecosystem, at least when it comes to gaming.
Our testing period for the Project xCloud preview app for iOS has expired. Unfortunately, we do not have a path to bring our vision of cloud gaming with Xbox Game Pass Ultimate to gamers on iOS via the Apple App Store. Apple stands alone as the only general-purpose platform to deny consumers from cloud gaming and game subscription services like Xbox Game Pass. And it consistently treats gaming apps differently, applying more lenient rules to non-gaming apps even when they include interactive content. We believe that the customer should be at the heart of the gaming experience and gamers tell us they want to play, connect, and share anywhere, no matter where they are. We agree.
There's also the issue of the fees that Apple collects for every app published on the App Store. Long story short, Microsoft's Project xCloud and other such cloud gaming services would most likely prevent Apple from getting the 30 percent cut for every game included in the catalog, let alone a fee for every subscriber.
Microsoft,
Google
, NVIDIA, and any other company that offers such services will probably disagree. Apple's App Store policies are bad for both developers and consumers, but as long as the end-user is content with what it gets, Apple won't do anything about it.