Apple App Store hits 25 billion downloads, $10,000 App Store gift card to be awarded
8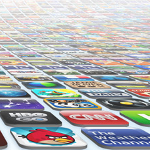 Update: Apple has announced that loyal phoneArena reader Chunli Fu of Qingdao, China is the winner of the $10,000 App Store gift card. The app she downloaded to get the prize was Where's My Water.
Some lucky winner
will be receiving a $10,000 App Store gift card from Apple
for downloading the 25 billionth app from the App Store. Early Saturday morning, the magical number was hit and Apple celebrated by posting on its website, "
A billion thanks. 25 times over
." Apple posted a message on the site that it would soon reveal the name of person
who will receive the gift card
and the name of the app that he chose to download.
Whichever app is announced as the 25 billionth downloaded, its developers should be ready for a new level of
name recognition and more business
. The
10 billionth app downloaded from the App Store
was
Paper Glider
which was developed by Neon Play. According to The Next Web in a report posted in January 2011, "
Within two days of the (10 billionth app) announcement, Neon Play received numerous inquiries from digital marketing agencies and has already undertaken at least three projects as a result

."

A report from metrics firm Asymco shows that as of last year, each iOS device

has about 60 apps

loaded on it

. Appsfire reported that between July and December 2010, the most recent data that the site has, the average Apple iPhone user spent 84 minutes per day using apps. A survey by Telenav from last August showed that Apple iPhone users were twice as likely as Android users to spend $40 or more for apps on their phone. Additionally, 45% of iPhone users said they never paid more than $1 for an app as opposed to 62% of Android owners and 63% of BlackBerry users.

source: Apple, TheNextWeb via PCMag