App Store hosts 3000+ apps, scores 100+ million downloads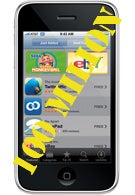 Apple's App Store was launched on July 11 with around 600 hosted software titles and today's figures show a fivefold increase to 3000 application, 20% of which are free and 90% of the rest priced at under $10.
During the first month
after its launch, there were more than 60 million applications downloaded and now, less than a month later, the numbers are almost doubled to 100+ million. The sales of
iPhone 3G
has also benefited from the presence of the huge online software catalog, which hasn't remained unnoticed by the competition in the face of
Microsoft
and
Google
. The companies are also working on application stores for their phone operating systems (Windows Mobile and Android), which should make the devices based on them more desirable for the consumers.
source:
PRNewswire
via
IntoMobile