Steve Jobs says 60 million iPhone apps downloaded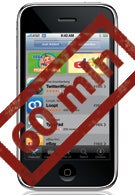 In an interview for Wall Street Journal, Apple's CEO Steve Jobs has said that more than 60 million programs have been downloaded from the App Store since its launch a month ago. Although most of them were free, Apple sold an average of $1 million in applications a day, which equals to $30 million in sales over the month. Although this is $9 million of gains for Apple, who just hosts the apps, Mr. Jobs says that the company's hopes for profit rely on future sales of iPhone and iPod Touch devices.
Steve also said that pulling off the "I Am Rich" app was a "judgment" call. It was offered for $999.99 and did nothing but display a red ruby on the screen of the phone. Apple's CEO also confirmed earlier rumors that the company is capable to remotely disable applications that are already installed on your device. This will be used if, by a mistake, Apple approves a malicious program for distribution.
source:
WSJ
via
EngadgetMobile