Apollo to land...as Windows Phone 8
23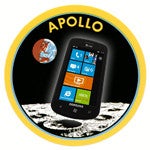 The much ballyhooed
Q4 Apollo
update to Windows Phone will be taking the platform to a whole 'nother level – the level of Windows Phone 8. That's according to a Pocketnow, which managed to get their paws on a promotional video for WP8 that was made by none other than Windows Phone manager Joe Belfiore and intended for Nokia-eyes-only.
We already knew that the Apollo update would bring
dual-core SoCs
and a greater variety of screen resolutions to the Windows Phone family. The video adds many more details; including confirmation of the rumor we
reported on last week
, that Windows Phone 8 will be adopting the same kernel as the desktop/tablet version of Windows 8. In addition to the kernel, both platforms will apparently share the same network stacks, security, and multimedia code.
Deeper Xbox integration will be coming, and while that's no great surprise, it will also share a client with desktop installs, allowing for seamless account integration between console, desktop, and smartphone. It was also mentioned that they will be dumping the Zune client, apparently in favor of a dedicated companion app. It's possible this could be built around
Skydrive
, which will be more integrated into Windows Phone 8 as a native cloud-syncing service.
Also to be featured will be a fully baked-in
Skype
, which should let VoIP calls act just like an ordinary phone call (think Google Talk integration in Android), server-side compression of websites to speed up web content delivery, and several enterprise-oriented upgrades, including 128-bit full-disk encryption.
In short, Windows Phone 8 will be the biggest overhaul to the platform since Microsoft elected to
dump Windows Mobile
. Whether that will let them compete better with Android and Apple remains to be seen, but if you're a fan of the Windows Phone platform you have to be excited by what's coming down the pike.
Update: Paul Thurrott has updated his Windows blog, confirming many of these details. He clarified that while Skype will be better integrated, it won't be preinstalled on the OS (so you could use other VoIP solutions if you prefer). He also clarified that all WP7 apps will be compatible from day one with WP8, even though the kernel will be different. We've added his site to the sources, if you want even more detail.
source:
PocketNow
via
Tech Crunch
;
Paul Thurrott's supersite for Windows